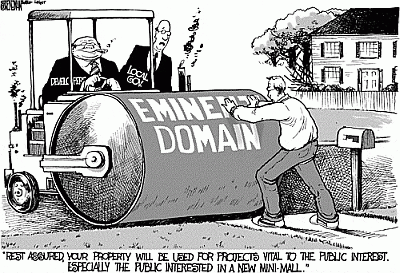 Amendment to city's constitution allows condemnation in three easy steps
COLUMBIA, 10/12/12 (Beat Byte) --
In an astonishing reversal of course that would make the last six months of rhetoric from city leaders a giant. bold-faced lie, a Columbia City Charter amendment to
make
blight a direct precursor to eminent domain
for private development has appeared on the Council's legislative agenda.
Already known as the "
Condemnation in Three Easy Steps Law
," the proposal promises to dominate discussion of city governance for months to come.
Blood brothers

If voters approve it next April, the Home Rule Charter amendment will make blight and eminent domain
not just kissing cousins, but blood brothers.
"Blight can lead to Eminent Domain for
private economic development purposes
" will become part of the constitution that guides city government, despite months of contrary assertions from City Hall, REDI, and
Columbia Tribune
publisher
Hank Waters
.
A blight decree could
never lead
to eminent domain, city leaders have repeatedly insisted during the long-running debate over Enhanced Enterprise Zones (EEZ). Worried citizens claiming otherwise are "conspiracy theorists."
Even state legislators took up the call to
separate blight from eminent domain
over Columbia's worries.
"CiViC members are opposed to aggressive development tactics,"
Waters wrote in an April 2012 editorial
about a group opposing the Blight Decree. "They have been able to convince a number of people the blight designation...is
likely to lead to city condemnation
of private property for the benefit of private developers. This concern is a
red herring
."
Not anymore.
Worse yet, Condemnation in Three Easy Steps (aka
C3EZ
) involves fewer requirements and fewer decision makers than EEZ, and is encoded in the City Charter, making it much harder to challenge or change than a city ordinance.
Three EZ Steps

As the latest boon for local developers, C3EZ disproportionately targets the area on which every developer has painted a bulls eye: the central city residential district, where city planners insist the downtown -- aka student apartmentville -- must grow.
A property targeted for eminent domain and private development
under C3EZ
merely needs 1) a structure declared a "nuisance" during an "administrative hearing"; 2) an owner either unwilling or unable to demolish the structure or abate the nuisance; 3) a cost to abate the nuisance that exceeds 50% of the structure's value, according to the county assessor.
That would be Assessor Schauwecker, whose assessments have been manipulated for years to satisfy the contingent that donated so heavily to his 2008 campaign:
private developers
.
Code enforcement -- or condemnation?

"Nuisance property" is broadly defined under city ordinance. It can include a rental unit with too many student parties; or an owner-occupied home where city officials have neglected to enforce codes.
Speaking of code enforcement, what incentive will the city have to enforce codes or fight nuisances, if it can merely condemn and resell code-deficient property under C3EZ? And will private rehabbers step up anymore, if they are constantly competing with City Hall and eminent domain for properties in poor shape?

"Don't worry," the guiding lights at REDI will doubtless say. "Condemnation in Three Easy Steps is just another tool in our economic development tool box."

RELATED: