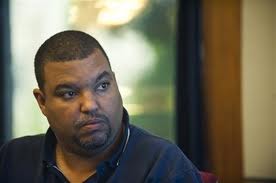 Motive, opportunity -- and a feline eyewitness on All Hallows Eve, Part 1

COLUMBIA, Mo 12/10/13 (Feature) -- On the night someone murdered Columbia Daily Tribune sports editor Kent Heitholt, he and one other man saw a stray cat near his car.  

The other man wasn't Ryan Ferguson or Chuck Erickson, the two men convicted of the crime.  The only other person who reported seeing the cat was a Tribune sportswriter named Michael Boyd, whose own police interviews -- including vivid recollections of the cat using Heitholt's car tire as a scratching post -- place him at the scene of the crime almost precisely as it was occurring.

Heitholt was murdered between 2:15 and 2:22, investigators say, on Nov. 1, 2001 -- the waning hours of All Hallows Eve -- in the Tribune parking lot at the back of the building. 
T
roubling details about Boyd's interviews with investigators have lingered in the background for years.  
With
Columbia police reopening the case
in the wake of Ferguson's recently overturned conviction -- and ongoing doubts about Erickson's involvement -- journalists and others have been re-examining those details, neatly organized about
halfway into the appellate brief
that won Ferguson his freedom.
Citing Boyd's own police interviews that place him at the crime scene when it was happening, Ferguson attorney
Kathleen Zellner 
builds a case against the former
Trib
scribe straight of
Matlock
or
Perry Mason . 
It's intriguing work that may leave readers wondering: 
How did police miss this guy?
As the "last known person to see Heitholt alive," Boyd is "the
only viable suspect
who has
never been eliminated
," Zellner writes.  "He was
never investigated in any way
, and merely referenced in passing at the trial by the prosecutor."
C
hanging stories are often a good indicator of lying.  
Boyd's recollections the night of the murder have changed nearly half-dozen times, placing him in new vantage points all over the crime scene.   Some of his recollections conflict with each other; some are downright bizarre. 
Like the famous
Schrodinger's Cat paradox
of modern physics, Boyd told one investigator he saw Heitholt drive away that night --
after he was already dead!
    In the paradox, a strange quality of quantum mechanics allows Schrodinger's cat to be both alive and dead simultaneously.  
Boyd even had a little-reported motive, Zellner notes:  a
hostile relationship with Heitholt
, his boss.  
"M
ike Boyd always talked about Kent Heitholt and
the tension
between he and Mr. Heitholt," testified
Shawna Ornt
, a witness that night who could not identify Ferguson and Erickson, even with prosecutorial coaching, but did
give detailed information
about the bad relationship between Boyd and the victim. 
"Mike Boyd always told me how Mr. Heitholt repeatedly criticized his writing and work,"
she explained in a sworn affidavit
that accompanied Ferguson's appellate brief.   "
Mr. Boyd seemed obsessed with Mr. Heitholt
and constantly told me that
Mr. Heitholt did not respect him
." 
Ornt reiterated her account to private investigator
Steven Kirby, who told the appellate Justices
"she claimed that on an almost nightly basis,
Boyd complained to her about how Heitholt
treated him." 
Fellow Tribune sportswriter
Rus Baer
suggested a reason for Heitholt's dismay.  "Boyd was a
poor reporter and writer
, and not held in high regard by his co-workers,"
he told Kirby
. 
For Heitholt, a career newspaperman and demanding editor, Boyd's performance may have been an irritant.   But it's not like Heitholt singled out Boyd.   From remembrances, he was both a gentle bear of a man
(at

6' 3", 300 lbs.)
-- and a tough-minded taskmaster.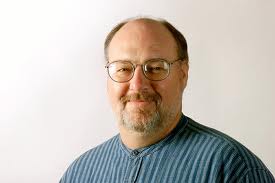 "Dear Heity, Remember the time you
yelled at me and slammed the phone in my ear
because I missed deadline?" former Tribune reporter
Jason Williams wrote Nov. 2, 2001 -- the day after Heitholt's death
.  
Though Williams got so upset he wrote his resignation and called "my folks to tell them I was coming home to Ohio," all was forgiven after Heitholt let the snafu drop.  "I realized you weren't such a bad guy, and the resignation was in the trash by mid-afternoon," Williams remembered.
For a writer with a more fragile ego, Heitholt's demanding style may have come across differently.  Enough to prompt murder?  Hard to say.  But the accounts do belie a media-popularized notion that Heitholt was so gentle, no one would have had anything against him. 
S
o what gives with the troubling tales behind Mike Boyd,
who at 5' 9" and 230 lb.
was, Zellner writes, "comparable in size," pound for pound, to the 
victim
-- and 20 years younger?   Why didn't police ever consider him a serious suspect? 
It all seems to start with that stray cat --
the cat Heitholt fed and Boyd saw
, scratching a tire just inches from where Heitholt fell.   The cat would prompt their last conversation, friendly, Boyd said it was.  
But that was just one of his stories.
NEXT:  Part 2, The investigators
HEITHOLT'S CAT, PART 3
-- Mike Martin for the Columbia Heart Beat