A mentor teaches about science -- and civil rights
A few years ago, I met with Eliot Battle at his home on Rollins Road.
The longtime Columbia educator had contacted me to offer help securing formal recognition for a little-known artistic masterpiece on display at Douglass High School: a bust of the abolitionist Frederick Douglass, sculpted by America's most renowned black sculptor, Isaac Hathaway.
We started but never finished an interview (if memory serves, Battle suffered a bout of ill health), but I enjoyed learning about his personal connections with some American greats.

Battle knew Hathaway, whom he met as a student at the Tuskegee Institute (now Tuskegee University) in Alabama. Hathaway had joined the faculty in 1937 to start the nation's first university ceramics program.  Battle matriculated in the class of 1944 to study under one of history's greatest scientists.

"I was going to be the next George Washington Carver," he told me with a wry smile. "Needless to say, that didn't work out."


Instead, Battle -- who died Tuesday at the age of 88 -- became an educator, following the footsteps of another American giant from Tuskegee. 
The educator Booker T. Washington founded the institute, and recruited some of the country's finest minds to transform it into a center of research, enterprise, and innovation.  Washington pursued Carver -- arguably the greatest agricultural scientist in history -- like a modern-day headhunter, finally winning his services in 1896. 

Carver taught at Tuskegee until 1943, enduring periodic turbulence with his boss and advancing agriculture immeasurably.

Young Eliot was amidst major players in a nationwide renaissance of art, science, and most notably, education in the African-American community.
He learned the power of mentorship under Carver, later mentoring dozens of students during his long teaching career.

Battle's mentors were driven by single-minded dreams that blossomed into multi-dimensional realities.
Hathaway wanted to fill museums with the likenesses of the great men and women who were missing from the exhibits -- people like Frederick Douglass and Mary McLeod Bethune.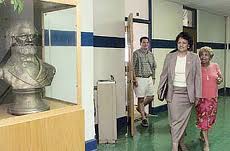 A desire to transform southern agriculture drove Carver to invent hundreds of uses for peanuts, sweet potatoes, and soybeans.
To replenish cotton-depleted soil, Carver introduced crop rotation and nitrogen restoration to struggling southern farms.  He saw his work as a way to lift the fortunes of poor farmers, many of whom -- like him -- were former slaves. Carver was born in Missouri into slavery, ca. 1864.
I made note of some interesting coincidences -- that Hathaway later sculpted Carver and that both men invented new ways to use soil.  Hathaway is largely credited for perfecting clay's use in statuary, pottery, and ceramics.

"They definitely taught me how to do the best I could with what I had," Battle said. "You can do a lot even if you don't have very much to start out."

Given its timing and purpose, Carver's science -- like Hathaway's sculpture -- had civil rights overtones that were not lost on Eliot Battle.   "There are lots of ways, I discovered, to carry on the good fight," Battle told me. "Dr. Carver and Mr. Hathaway did it with their hands.  Dr. King did it with his voice."

When I met Battle all those years later, I could see a resemblance with his heroes. As these pictures suggest, Carver, Hathaway, and Battle had a certain elegance in their bearing.  They were gentle men who let their work do the talking.


"I never heard Dr. Carver raise his voice, which he certainly had a right to do with the likes of us," Battle told me. "His mind was going a mile a minute, and we students -- and frankly, plenty of faculty -- were always trying to catch up."

Our conversation turned to Battle's own civil rights struggle, as a black man in largely-segregated Columbia trying to buy a home in a white neighborhood. He showed me a Columbia Daily Tribune feature story from nearly 50 years ago that described his quiet battle.

It didn't involve protests or placards or pickets. He, wife Muriel, and his young family won the fight with persistence.

"It wasn't easy," he said. "But I had learned from some of the best to lead by example, and my example was to never take 'no' for an answer."

-- Mike Martin for the Columbia Heart Beat