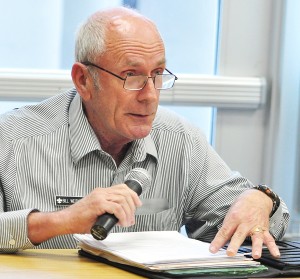 ...in which our hero seeks the light at the end of City Hall

COLUMBIA, Mo 1/18/14 (Feature) -- For nearly three weeks, Bill Weitkemper -- a retired city of Columbia public works superintendent -- has been sending requests, follow ups, notes, thanks, prods, and pointers to city officials charged with providing public information under the Missouri Sunshine Law.  

The former City Council candidate and first Ed Robb Public Service Awardee is seeking information about what may be an unjustified use of public funds to pay for private sewer lines.   
Weitkemper regularly forwards his correspondence to local reporters, showing a remarkable tenacity and an inside view of how communication wends its way through the halls of City Hall. 
Excerpts from the emails are reprinted below. 


Date: Mon, 30 Dec 2013 22:15:38 -0500
From: billweitkemper@
Subject: Sunshine Request
To: Mike Matthes

December 30, 2013

Mike Matthes, City Manager
City of Columbia Missouri

This is a request for records under the Missouri Sunshine Law, Chapter 610, Revised Statutes of Missouri.
I request that you make available to me the following City of Columbia records:

1. any additional rules and regulations pertaining to Section 22-217.2, the abatement financial assistance program, that you as City Manager have established....
........

If portions of the requested records are closed, please segregate the closed portions and provide me with the rest of the records.

Bill Weitkemper
Mon, Dec 30, 2013 at 10:16 PM,<billweitkemper@> wrote:

Renee,

I got an auto reply from the City Manager indicating he would be out of the office until Jan 6.  Can you handle the following Sunshine Request?

Biil

Tue, Dec 31, 2013 at 9:08 AM, Renee Graham <This email address is being protected from spambots. You need JavaScript enabled to view it.> wrote:

Bill,

I have forwarded your request to the appropriate records custodians.   We do have a few key staff members on vacation this week, so it might be next week before I can get you the time and cost estimates.

Thanks and Happy New Year,

Renee Graham
Public Communications Manager
City of Columbia, Missouri

Date: Tue, 14 Jan 2014 13:12:30 -0600
From: Renee Graham
Subject: Re: Sunshine Request
To: "billweitkemper@

Bill -

I'm sorry for the delay in following up on your records request.   It is my understanding that Public Works has been in contact with you directly and is working on fulfilling the bulk of your request.   I want to personally apologize for the time it has taken me to get back with you.   I've been out of the office quite a bit last week and this week with a family medical emergency.

Here is the information I have on the rest of your request....
.......

I believe all other items are being handled by Public Works. If there is anything I can do to assist you further, please let me know.

Thanks,

Renee Graham
Public Communications Manager
City of Columbia, Missouri

Date: Tue, 14 Jan 2014 18:43:07 -0500
From: billweitkemper@
Subject: Fwd: Re: Sunshine Request
To: Renee Graham
Renee,
Thanks for the information.
I have not received any information from Public Works...
........
Bill


Date: Fri, 17 Jan 2014 09:19:21 -0600
From: Steven Sapp
Subject: Sunshine Request for records of December 30, 2013
To: billweitkemper@

Dear Bill,

Attached is a cover letter outlining your records request and our responses.  Also attached are any records Public Works keeps which matched your request.

Sincerely,

Steven Sapp
Public Information Specialist
City of Columbia Public Works Department