Details
Written by Heart Beat Staff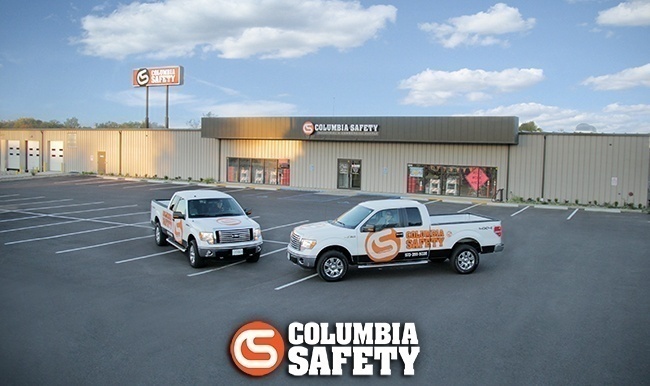 Saving 173 acres of forest -- and $20,000 in yearly power bills

COLUMBIA, Mo 12/7/13 (Beat Byte) -- Forty solar panels atop a sun-friendly roof have helped Columbia Safety/GME Supply to become the city's largest "net zero" electric power building (left).  

Designed and installed by EnergyLink, the 35,000 watt system produces as much energy as the building consumes, making it a "net zero" electric power -- and environmentally-friendly -- consumer.  
"By using solar panels to collect energy, Columbia Safety will
save the equivalent of 212 metric tons of carbon
dioxide per year
," said company representative
Alex Giddings
.  "That's equal to 173 acres of forest saved, or 44 passenger cars removed from the roads, each year." 
With an expected 30-year life, the solar power system will not only save trees over the long run -- it will drastically reduce the company's power bills.  
"It's not only good for the environment, it's good for business," said Columbia Safety/GME ow
ner
Beau Aero, 
who estimates his firm will save more than $20,000 per year in electricity bills.  The solar panels also qualify for city and Federal rebates, which Aero says will help the system pay for itself in five years. 
At 1801 Westfall Dr. in Columbia, the
26,000 square foot building
houses a showroom, safety learning center, international call center, photography and YouTube video production studio, and distribution warehouse.
Along with the solar panels, the building includes some high-tech gizmos that add even more energy efficiency. GPS-powered skylights move in alignment with the sun from dawn til dusk to provide free lighting.   Automated, zoned systems heat and cool throughout the year. 
"We strive to be a progressive, forward-thinking company," said Aero, who founded the company in 2005.  A University of Missouri journalism grad, Aero has long-time mid-Missouri roots.  His family founded
Boonville-based GlenMartin
, which manufactures telecommunications and power transmission towers.

Columbia Safety/GME Supply relocated to Columbia from Brooklyn, NY in 2011. The firm offers personal protective equipment, traffic safety supplies, hand and power tools.